Browse your movie files on your Media drive or cloud storage and tap to start streaming
No need to take up space on your iPad or iPhone or even wait for a download. FileBrowser starts streaming your movie files straight away from your Mac, PC, Nas Drives and even your cloud storage such as Dropbox and OneDrive.
Stream HD movie files if your wireless network is fast enough.
The playback position of the last 100 videos will automatically be remembered.
Cast movie files to your Smart TV

Chromecast Movie Files from iOS
Easily cast movie files from your computer or cloud storage such as dropbox via your iPad to your Chromecast TV or device. Simply tap on the Chromecast icon and select your Chromecast TV or device from the list. See Google Cast's Full Supported Format List.

AirPlay Movie Files from iOS
To AirPlay movie files to your TV, open your movie file in FileBrowser and tap the AirPlay icon next to the volume control and choose your AirPlay device from the list. FileBrowser casts your video to your TV full screen without the controls.
Supported video formats
FileBrowser can play all video formats supported by Apple, including MP4, MOV, M4V, 3GP, 2G2 & AVI. For AVI files containing DIVX/MPG and other non-Apple formats see Stream to other apps below.

Stream to other apps
If you have another movie player app or need to stream a format not supported by Apple such as MKV or DivX, simply tap "Stream to another app" a list of your Movie players will be listed. If they are not installed we recommend a few.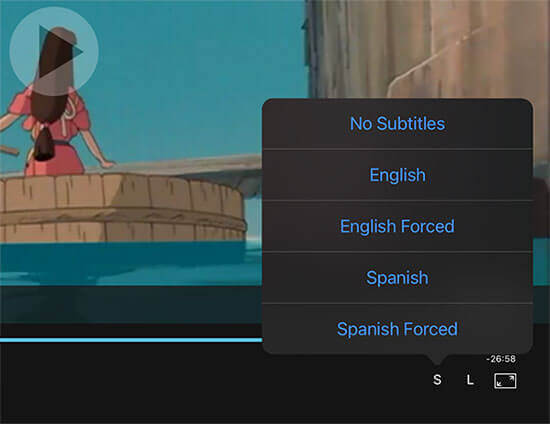 Subtitle Support
If your movie files have embedded subtitles, simply select the ones you want to display.
SRT Files Supported
If you have a SRT file with the same name as your movie file name, then select the subtitle button in the media player to turn on subtitles.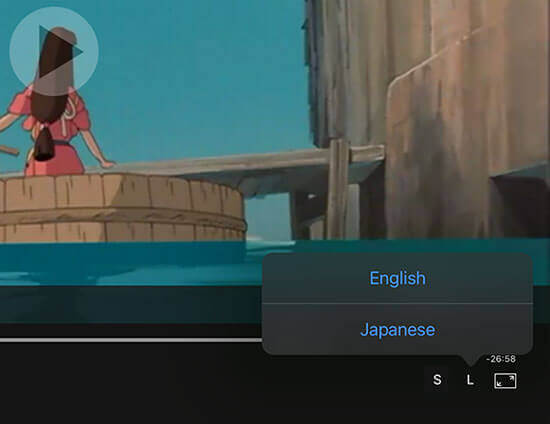 Video Language Support
How to change movie language. If your downloaded movie files have embedded audio languages, simply tap the language button and select a different language from the list.
"Streams from my NAS to my chromecast flawlessly. Can't fault it :)" UK App Store - Paulio1980
Stream the following music formats MP3, M4a, Wav, Flac from your cloud storage, network media drives, your PC or Mac.

Queue your Music
Play entire albums by tapping play on the first track on an album and all tracks will automatically queue up to your "Now Playing" list in FileBrowser's media player.
Browse your music library and queue individual tracks or podcasts to the "Now Playing" list. Queue tracks from different folders, servers, or from cloud storage. You can reorder your play queue by simply draging the tracks up and down.

Play modes
Multiple play modes allow you to play tracks from the current folder in sequence, randomize, repeat, or play a single track.
Background audio
Play music in the background whilst watching a photo slideshow, browsing the Internet, viewing documents, or whilst running other apps.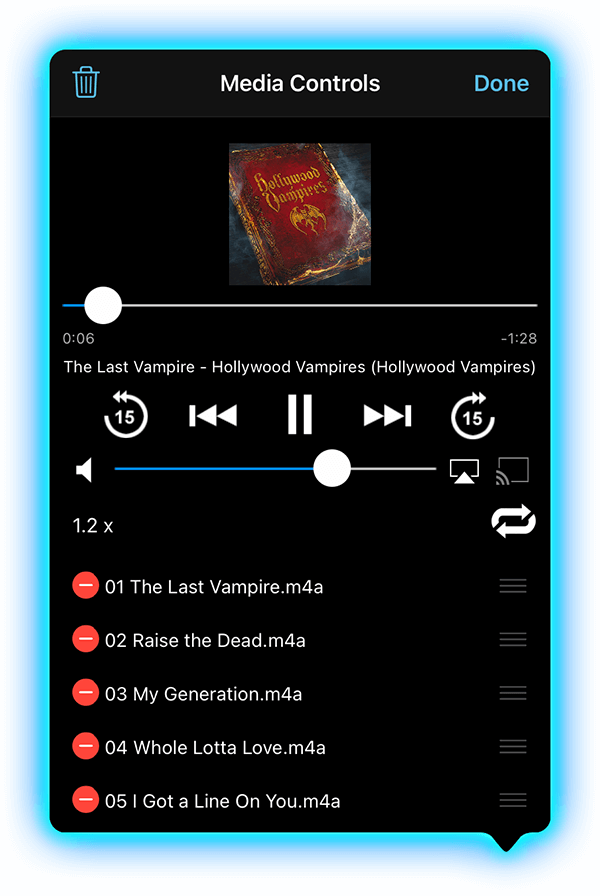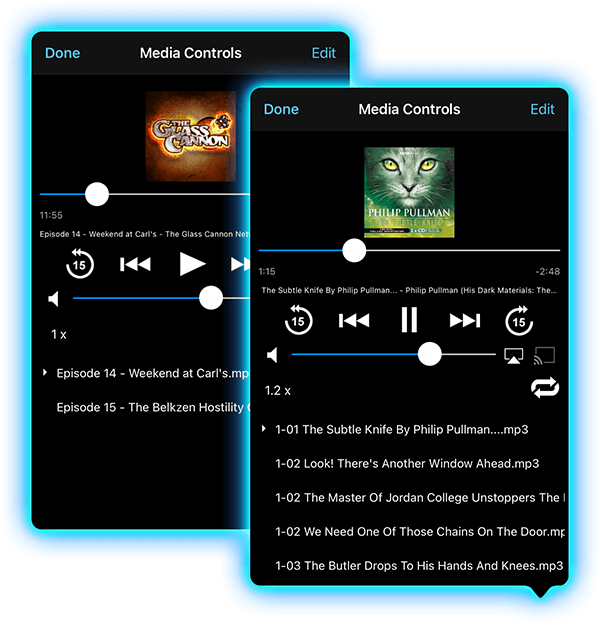 AudioBooks & podcasts
FileBrowser is great for listening to your favourite Podcasts or Audiobooks, stream them directly from your computer or cloud storage or save them to your iPad or iPhone to listen to offline.
Remember your Playback Position
Automatically remember your Audiobook last playback position. Use the multi-select feature to queue many podcasts in one go.
Adjust Playback Speed
Audiobooks and Podcasts are sometimes a little slow. Control the playback speed, with automatic pitch adjustment. Great for learning to play music slowed down but at the correct pitch.
Stream your Music to other devices
Automatic network discovery of AirPlay and Chromecast devices.