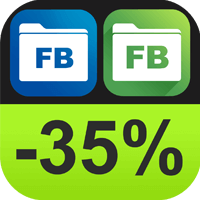 FileBrowser Professional Bundle
Upgrade to FileBrowser Professional with our Bundle and enjoy all of its premium features.
If you already own FileBrowser, use the App Store 'Complete my Bundle' feature to add FileBrowser Professional and just pay the difference.
Import your configuration
Import your existing settings file from FileBrowser and be up and running in minutes.
Our helpful guide can also show you how to import your documents into FileBrowser Professional.
How to Import your configuration.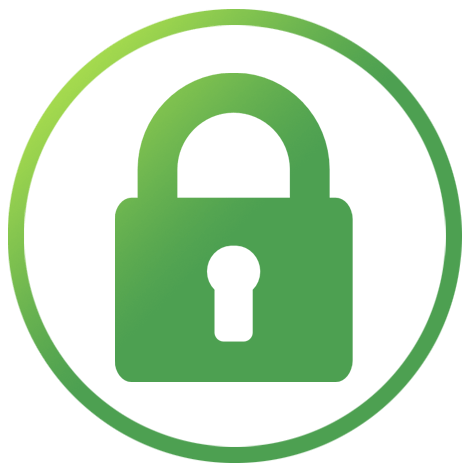 Professional Security
SMB3 Connections
Access your servers and computers with the latest and most secure version of SMB available.
Access Additional Locations
Browse these additional storage connections as well as the standard set within FileBrowser:

pCloud

BackBlaze B2

Wasabi

DigitalOcean

Filebase S3
iDrive Cloud S3

AmazonS3

OneDrive for Business

SharePoint

Microsoft Azure
Organisations of all sizes can connect to OneDrive for Business, Microsoft Azure and SharePoint Servers.
Integrates with Office365
Create Sync Tasks
Sync files or folders from your PC, Mac or cloud storage to your iPad / iPhone.
Two-way Sync
Create, modify, rename, delete files and folders in a local Sync Files location and the changes will sync back to the server when you are next online.
How to create Sync Tasks
Create Backup Tasks
Backup folders or files from your iPad or iPhone to anywhere.
Remote to Remote Backup
You can even backup from one remote location to another such as Dropbox to OneDrive or from a Windows Server to Cloud.
How to create Backup Tasks

XMP
Rate or reject photos using XMP files. Works great with Adobe Lightroom, ideal for professional photographers. How to use XMP tagging

QR code Scanning
Create QR Codes that link to folder locations, simply scan your QR Codes to navigate to your folders. QRCode Scanning

Bar code Scanning
Scan barcodes to find specific folders or files. Use with your ERP system. Barcode Scanning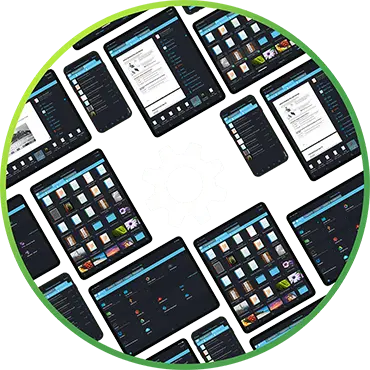 MDM
Centrally manage settings and server connections.
FileBrowser Professional can be deployed via a Mobile Device Management system that supports app configuration, with centralised control of FileBrowser's settings that allow new configurations to be pushed out at any time.
The app can also be configured to comply with your corporate security policies. Great for large businesses or corportation roll out.
Tell me more about MDM and Configuration
Gallery View
An alternate file view with a large previews. Great for images and you can also scroll your documents and PDFs in this view without opening the files.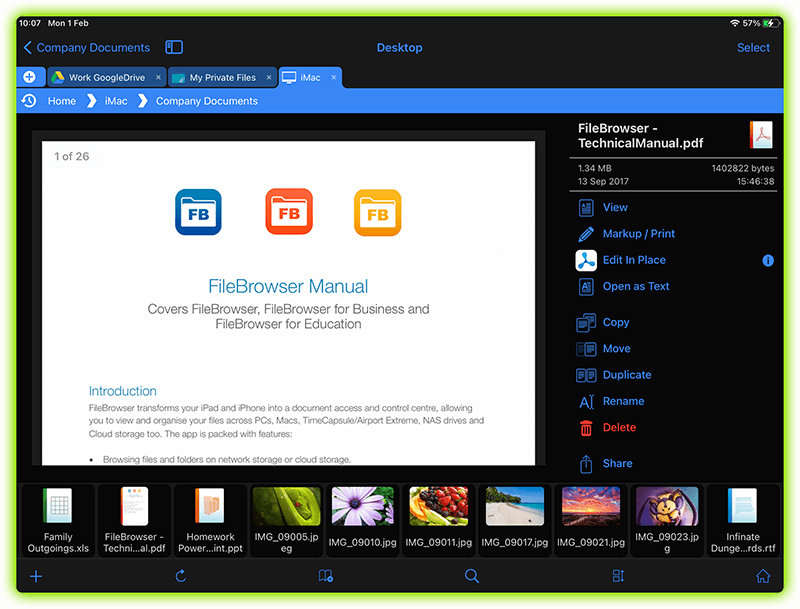 Kiosk Mode
Your corporate brochures, PDFs, Images and Videos are ready at your customers' or employees' fingertips.
Use FileBrowser at conventions or trade shows or shop floors with limited access to content for public read-only access.