The Most Powerful File Explorer on iOS
Filebrowser is a fully featured file explorer & offers much more than just browse & view for your iPad / iPhone
Intuative UI and Tabbed Browsing
FileBrowser's intuative UI is the easiest file explorer app on iPad and iPhone, easily open new locations in different tabs and switch between them, trusted by experts and corporations world wide.

Move or copy your files from anywhere to anywhere
FileBrowser really does act as the bridge between all your file storage. Copy files between your PC / Mac to Dropbox, from Google Drive to Box or from anywhere to anywhere...
Multi-file and folder copy
Multi-file copy on iPad / iPhone, easily copy several documents and folders in one go on iOS.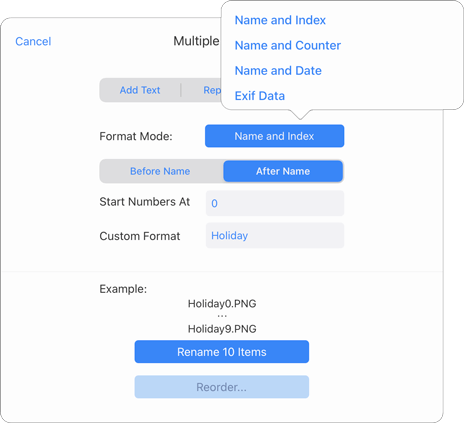 Bulk Rename Tools
FileBrowser's bulk rename feature allows you to find and replace text, add text or append dates or indexes to thousands of files on your iPad / iPhone. How to use our Bulk Rename tools.
Sub-folder searching
Enjoy file name subfolder searching for all storage locations and also supports document content searching for Google Drive.
Download from URLs
Downloading files from the internet is easy, download files to your iPad / iPhone or directly to another location such as Google Drive or your Windows 11 Machine.
Email Multiple Attachments
Attach multiple files from different storage locations such as Dropbox and your NAS to a single email, a feature lacking in other file explorer apps.
Stream music / movies
Easily stream movie files or music from your computer or cloud storage directly to your iPad or iPhone. Find out more about FileBrowser's Media Player.
Bookmarks
Bookmark folders for instant access to your favourite folders. You can even bookmark your current page when reading PDFs and eBooks.
Multiple Cloud Accounts
Unlike the iOS Files app, FileBrowser also allows you to have access to multiple accounts on all your cloud storage locations such as Google Drive, OneDrive and DropBox.